Viega pre-wall technology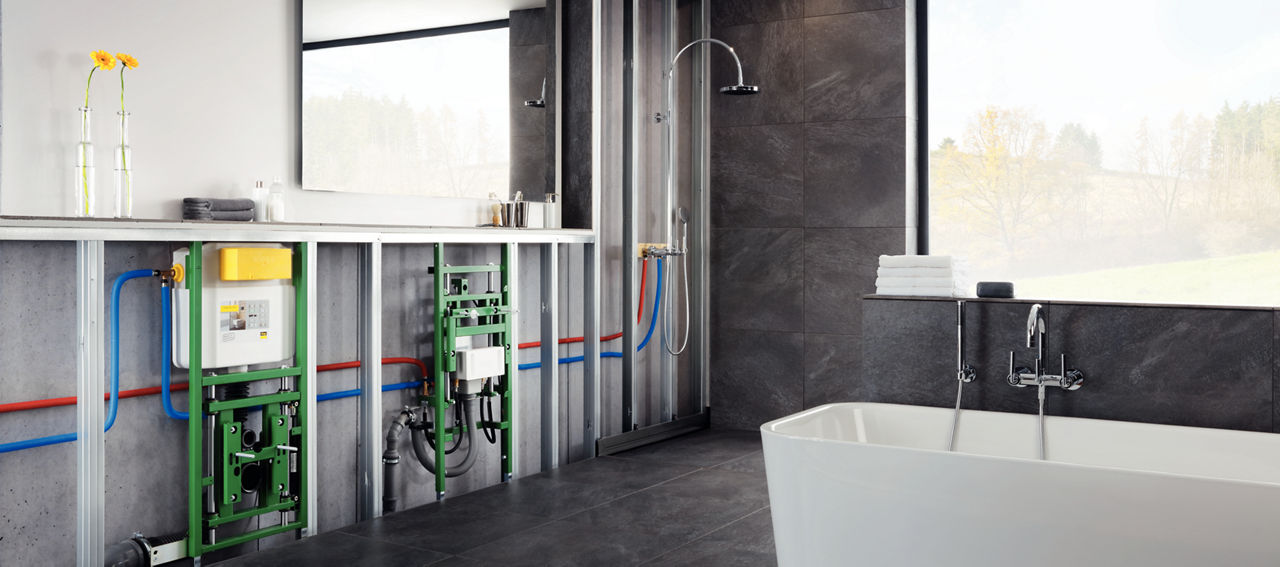 Visign flushing plates With its new flush plates, Viega once again proves its surefootedness in respect of first-class bathroom design. The revised Visign for More 105, Visign for More 105 sensitive and Visign for Style sensitive design style is oriented to the latest market developments, while also setting new benchmarks.
Visign for more 105 soft-geometrical design with rounded corners
satinised details to indicate flush volume options
available in four colour variants
use of high-quality materials such as glass and aluminium
Visign for more 105 sensitive soft-geometrical design with rounded corners
touchless, hygienic and convenient actuation
use of high-grade white glass
with Viega Hygiene+ function as standard
Visign for Style sensitive design accent with good price-performance ratio
luminescent paint as innovative design element and orientation aid in the dark
with Viega Hygiene+ function as standard
Viega tablet holder The hygienic and concealed solution: with the new tablet holder behind the flush plate, WC cleaning tabs can easily be used in the concealed cistern as well without them interfering with the fittings.
The advantages of the viega tablet holder
special magnetic installation frame
easy removal allows access to basket for cleaning tabs
compatible with the Visign for Style 10 flush plate
existing cisterns can be retrofitted
Viega flushing throttle
Rimless ceramics are standard these days. However, such hygienic, attractive looking WCs have one disadvantage: if the flush flow is too strong, the flushing water may splash up. The flushing throttle solves this problem simply and cleverly.
The advantages of the Viega flushing throttle
intelligent problem solver 
does not change the flush volume 
can be adjusted in five steps (camera shutter principle) 
included in all Viega 2h concealed cisterns with 1,130mm construction height 
fast and easy retrofitting 
Innovations that captive with form and function.